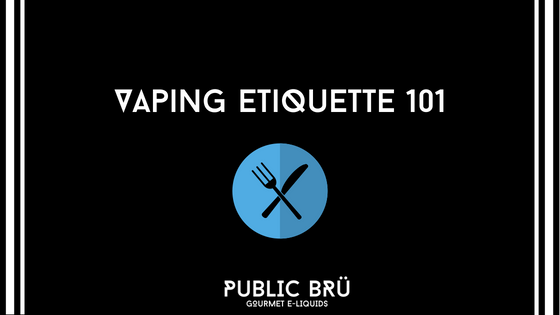 Your Complete Guide to Vaping Etiquette!
Vaping is rapidly expanding around the world as a popular alternative to traditional cigarettes. While vapers understand the difference between cigarettes and vaporizers (or smoke vs. vapor), many other people don't. Most vapers do the right thing, but just a few vapers doing the wrong things can quickly and easily turn public perception against vapor.
Most people don't see someone vaping and assume that the secondhand vapor is relatively harmless and poses no serious health risks. All they see is a large cloud of vapor that smells like bubblegum coming towards them. For decades now, people have been exposed to very serious and public anti-smoking messages in the media. Secondhand smoke, cancer, and other health concerns are constantly drummed into people. You can't blame them for being hesitant (or ignorant) about a newer product that looks like cigarettes and shares similarities with smoking - primarily the inclusion of nicotine as an ingredient in vape juice or e-liquid.
There are some simple vaping etiquette rules that all vapers can follow which will help to ease everyone's mind and ensure that we can all vape to our heart's content!
If there are "No Smoking" signs everywhere around you, then it's probably not a good idea to whip out your vaporizer and start blowing massive clouds of vapor. Most places around the world are switching "non-smoking areas" to "no smoking and no e-cigarettes."
If you're in a public space where smoking is allowed, then feel free to vape away, but be aware of other people and don't blow clouds of vapor in their personal space. Always try to maintain a respectful distance between your vapor and other people's breathing room.
Public transport, restaurants, parks where children are present, and many other public events that are well known to be non-smoking should be avoided while vaping. While it may not explicitly say "no vaping or e-cigarettes," most might say the two go hand-in-hand.
If people come up to you asking for more information about vaping or e-cigarettes, take a few seconds to explain your personal experience or take the opportunity to clarify your own motivations behind vaping versus smoking. 
Don't be triggered to push your staunch beliefs on other people, unsolicited - no need to be a hard-line vape evangelist! It only takes a few seconds to make the right impression, and the more considerate we are as vapers, the better we look in the public's perception!